FREQUENCY RESPONSE COMPARISON
The frequency response curves printed below show the response of three different six track record/play head stacks. The curves were generated using standard Magna-Tech electronics. All three traces are from track three in each headstack. The EMC heads exhibit a flat response from 30 Hz to 20 kHz. Selection of the head damping resistor allows the 20 kHz response to be flat independent of machine to machine variations in cable capacitance. Teccon and AMB heads start to roll off at 10 kHz and are down 4 dB at 20 kHz.

The low end is governed by the geometric design of the face of the the head. EMC heads are engineered to have true elliptical contours that virtually eliminate low frequency head bumps. The result is a slight dip at 90 Hz and a small bump at 45 Hz. Teccon and AMB heads both show large low frequency excursions that make proper setting of the low end critical in order to avoid low frequency build up. Note that the EMC plot is a 40 kHz plot.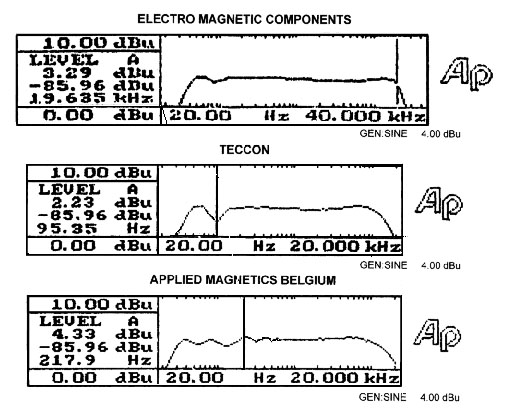 INSTALL EMC HEADS AND EXPERIENCE THE LONG LIFE, ELECTRICAL EXCELLENCE
AND MAINTENANCE FREE PERFORMANCE YOU HAVE BEEN LOOKING FOR.