ENGINEERED FOR SUPERIOR PERFORMANCE

Electro Magnetic Components has developed a patented new series of long life magnetic heads for all track formats used in motion picture sound recording. The unique elliptical contour on the face of EMC heads combined with the patented material used in the face give an unparalleled combination of intimate tape to head contact and prodigiously long life. These heads have been extensively tested and compared to the leading competitors and in every test EMC was the leader. They exhibited lower distortion, better high frequency response, essentially non-existent head bumps, less crosstalk, and have less tape to head friction. All EMC heads use hum bucking windings that provide common mode protection and virtually eliminate hum fields.

ENGINEERED FOR LOW LIFE CYCLE COST

EMC heads are manufactured in a strict environment that consistently assures the highest quality tape head products. A step in the construction of the heads involves the fitting of the face of the head to the bottom. These surfaces are flat to within one wavelength of light to insure flawless mating. Because of this type of construction, if the head face is not relapable when the time comes, the face is simply removed (at the factory) and new face is installed at a fraction of the cost for a new head. No other company offers a system like this that saves you so much in operating costs. EMC heads provide the lowest life cycle cost available, backed up with technical support, all aimed at the common goal of giving you the best sound recording heads available.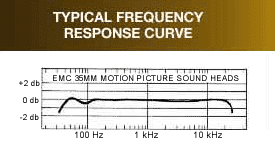 EMC 35MM and 16MM heads retrofit to all types of recorders including Magna-Tech, RCA, MTM, KEM, Westrex and others. All long life EMC heads come with durable phenolic or metal base mounts and stainless steel hardware. Typical Inductance values match original OEM specifications.